Phillip Gavriel Gold and Sterling Silver Oval Twisted Hoop with Barrel Diamond Center
SKU# s-e00237
retail value: $621.00
sale price: $414.00
FREE SHIPPING FREE RETURNS
Phillip Gavriel "Italian Cable" Collection
0.10ct. Diamond
18k Yellow Gold & Sterling Silver
Oval Shape Twisted Hoop
Barrel Diamond Center.
arrives in a ribbon decorated gift box
FREE shipping

Order Processing Times:
Your jewelry is shipped usually in one to two business days after it is ordered from Monday to Friday.
At busy times, orders may take slightly longer to ship.
Orders placed after 12 noon EST on Friday through Sunday ship on Monday or Tuesday.
Please do not confuse processing time with shipping time!
We offer free shipping on all domestic orders placed on ShoppingBadger.com, without a minimum order.
We deliver to all U.S. Addresses, including PO boxes and military addresses.
USPS tracking for every order (limited for First Class Mail).

Domestic Shipping Tiers:

FREE USPS First Class Mail (3-5 business days after shipped) for orders less than $100.
FREE USPS Priority Mail (2-3 business days after shipped) for orders $100 and over.
FREE USPS Express Mail (overnight to most addresses after shipped) for orders $350 and over.
Add $6.50 for Priority Mail if not included.
Additional charge for USPS Express Mail if not included is calculated at check-out.

*Please Note: Shipping times are estimates, and are not guaranteed. USPS sometimes experiences delays due to weather and other incidents.
FREE and Easy Domestic Returns
If you are not 100% satisfied with your purchase, we will be happy to accept a return for a full refund (see limitations below).
Return shipping is FREE for domestic orders (following the directions below).
You can return your jewelry purchase in its original condition for up to 30 days from the purchase date. (Note, the item must be returned to us within 30 days of purchase. Items which receive a return authorization, but which arrive after 30 days are subject to a 20% restocking fee.)
Purchases made during the holiday season (from one week prior to Thanksgiving through December 24), receive an extended window for returns. They may be returned for 30 days or until January 7, whichever is later.
Gifts for which the receiver does not have the credit card used to make the purchase can be returned for store credit only.
Phillip Gavriel jewelry, handmade, artisan jewelry and single items over $250 are subject to a 20% restocking fee.
Monogram, name necklaces and special orders are not returnable.
Claims for damaged merchandise must be made within two business days of receipt of the item.


How To Prepare a Return Please take the following steps to make a return to ShoppingBadger.com:


1. Send an e-mail to freereturns@shoppingbadger.com
2. Write RETURN in the subject line.
3. Provide us with your order number, name, address, and phone number in the body of the email. Please also indicate a
reason for your return. Your feedback is very important to us! We will provide a Return Authorization Number (RA#).
4. Pack It Up. Re-pack the item(s) in the original envelope (or similar size protective envelope) and packaging
material. Include the shipping slip if possible, and the item(s) to be returned.
5. Tape a new label to your protective package (covering any previous labels) and take it to a Post Office to send it standard
first class mail. The RA# must be written on the shipping label.
6. We will include the postage amount shown on the envelope in your refund.



After we receive your returned item, your refund will be processed within a few days.
Refunds are processed within a few days of our receipt of the item. It may then take up to five business days for the refund to appear on your credit card.
We do not refund upgraded shipping charges.
Our Quality Assurance department will review your return. If there are signs of wear, resizing, alteration, or damage, the return will not be accepted.
Returns that are improperly packaged or that do not have a Return Authorization Number will be refused and returned to the sender.
YOU MAY ALSO LIKE
Phillip Gavriel Gold and Sterling Silver Ring with Twisted Patterned Shank and Diamond Barrel Center
Retail Price: $299.00
Your Price: $199.00
Phillip Gavriel Sterling Silver Twisted Patterned Cuff Bangle
Retail Price: $548.00
Your Price: $365.00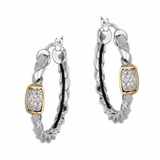 Phillip Gavriel Gold and Sterling Silver Oval Twisted Hoop with Diamond Cluster in Center
Retail Price: $335.00
Your Price: $223.00